Sustainability is becoming the leading trend in the marketing industry as consumers are demanding their favorite brands switch to more green packaging. Some companies have built their entire reputation around promoting sustainable products and shipping, while others, like Amazon, are notorious for sending oversized boxes or multiple packages instead of only one. Reusing those boxes, bubble wrap, and bags is a great way for your eco-friendly company to focus on recyclable packaging.
It can be challenging, though, to create a striking brand impression when you're using an old and ugly box. The impression you make is critical to your company's success--it takes only a few seconds for a shopper to form an opinion of your brand. Having a well-thought-out style and theme makes a huge difference in your sales and customer retention. Here are some ways you can create a noteworthy brand impression while trying to be eco-friendly!
How to Customize Eco-Friendly Packages
Your brand impression needs to reinforce your company's core ideas, increase the value of your products, thank the buyer, and encourage them to post on social media and return. Try using these creative packaging solutions to customize a simple recycled box and match your brand's aesthetic:
Tape
You will obviously need packaging tape to close your boxes, although you don't need to stick with the usual boring brown ones. There are so many biodegradable and water-soluble packing tapes on the market now, and they come in a variety of colors and patterns. You can even get customized tape to make a stronger brand impression.
Stickers
Print some stickers of your logo in multiple sizes so you can include them in your eco packaging. They're great for covering previous shipping labels or other brand logos from the recycled boxes, and you can use them to hold a wrapping in place or even include some as a gift. Regular stickers aren't sustainable, so opt for some eco-friendly ones like these.
Below we re-used the Wholefoods Packaging and shipped away ichcha block printed curtains in some shiny silver bags.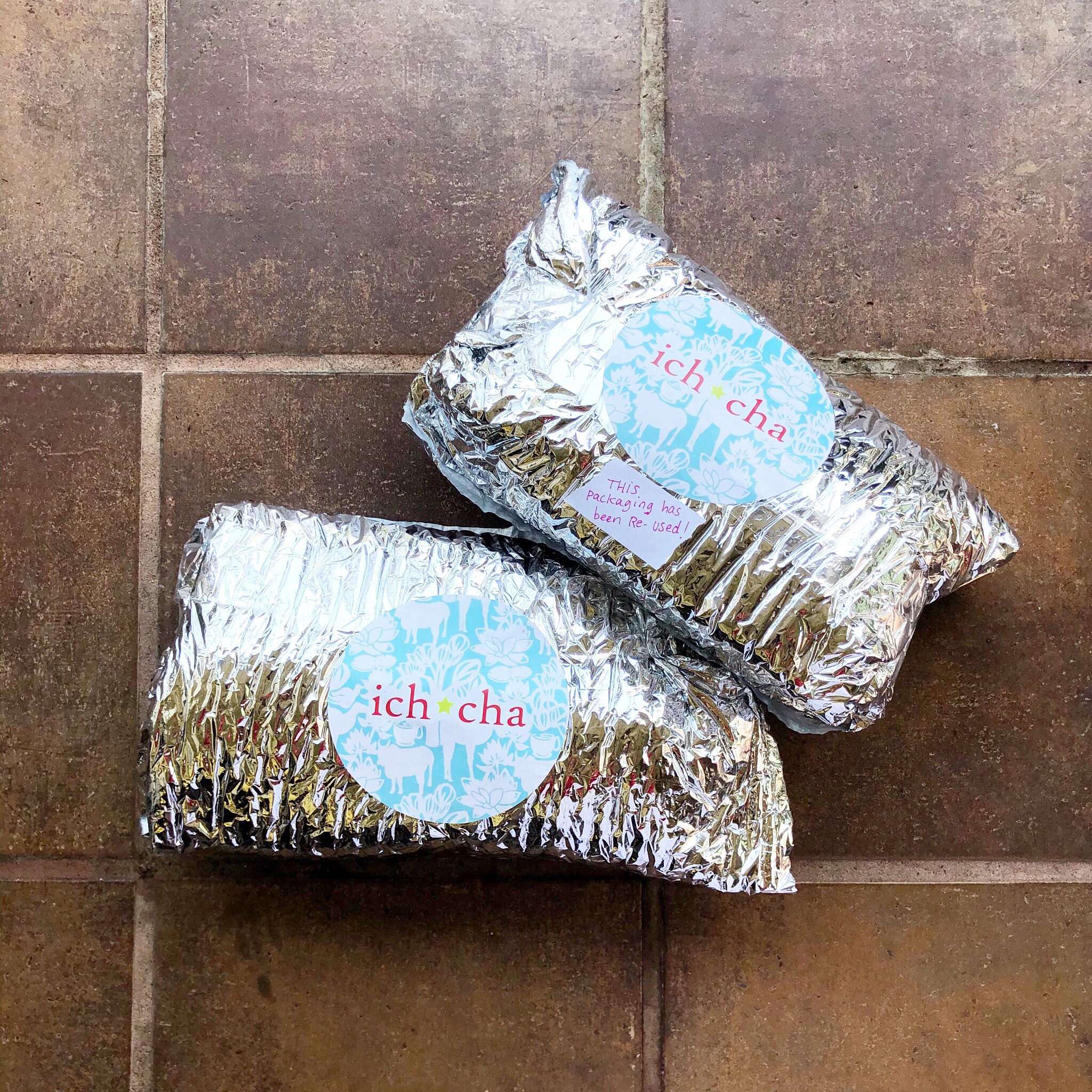 Stamps
Using stamps is another fantastic, cheap, and easy way to customize the outside of a box. If you're tired of a plain brown package, stamp a pattern all over it to completely change the design and mood while representing your company. You can make a stamp of your name, logo, symbol, or anything that fits your brand's aesthetic. Check out Simply Stamps or Etsy for their massive online selections and customizable features!
The Unboxing
Put extra effort into how you pack so that every customer has an enjoyable unboxing experience--it should be like opening a present. Wrap the products neatly in paper, fabric, or compostable bags and organize the fillers, so nothing slides around. It might seem too brown and boring if you only reuse crumpled paper and bubble wrap, so try adding color in different ways. For example, you could stamp the inside of the box; include a hand-written thank you card, flyer or coupon, and business card with your social media handles. You could even throw in an extra gift that matches your product, like a pencil, coaster, tealight, etc. Colored crinkle paper, string, ribbon, or shredded paper are all great additions.
Below is a gift packed in ichcha tea towel looking so chic! You can also use a bento bag to do the same.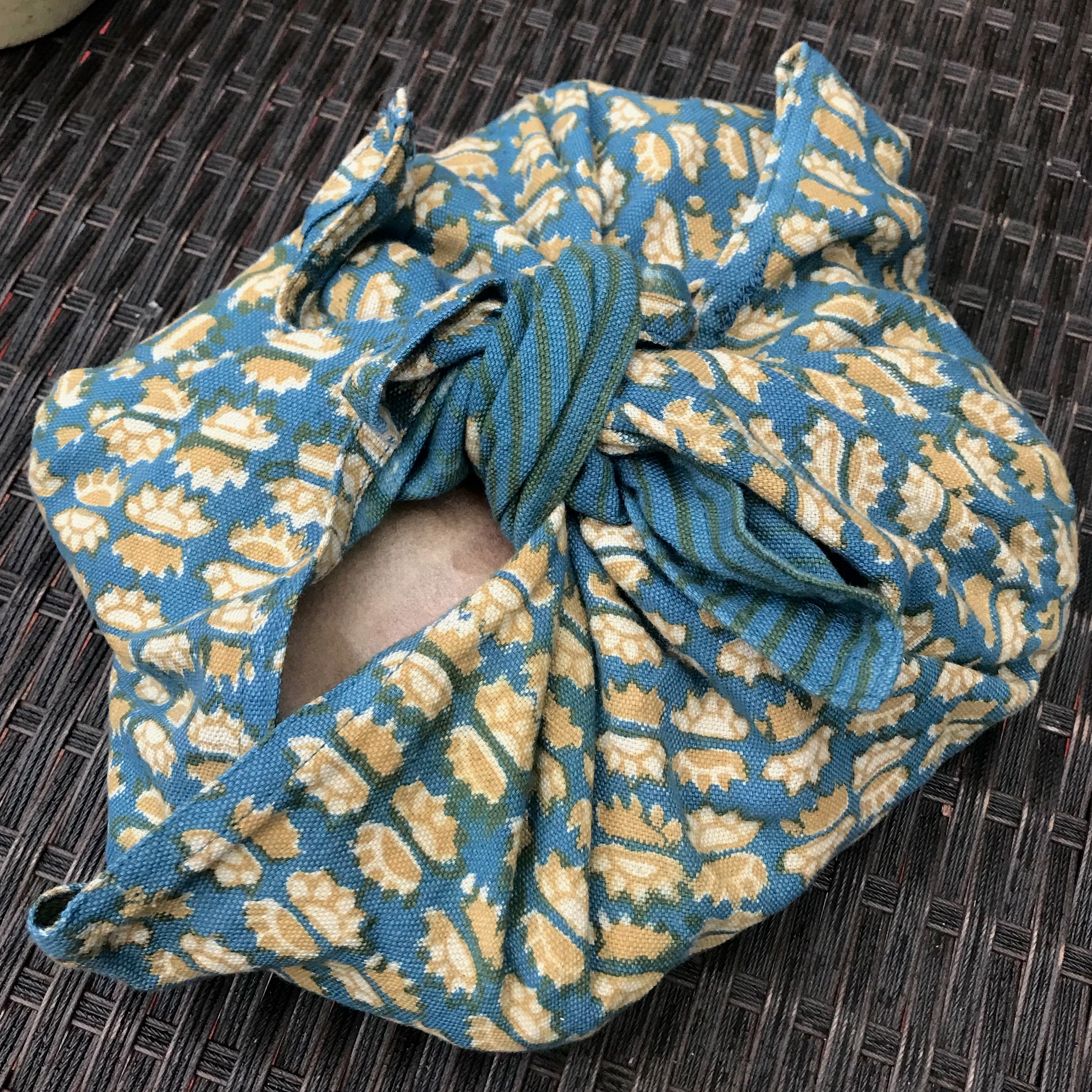 Putting in the time and energy to customize your packages shows your customers that you care about your products and their satisfaction. There are so many different ways that you can create a strong impression while still using eco-friendly packaging. By utilizing low-waste materials and reusing shipping supplies, you set your brand apart and prove to eco-conscious consumers that this isn't a marketing tactic or trend--it's your company's objective.