Posted by Maggie & Rachna on 25th Oct 2022
The holidays are right around the corner, and we can't wait to kick off the party preparations! With all the decorations, shopping, and gift-wrapping from Thanksgiving through New Year's Day, there's just so much fun incoming. But if you are eco-conscious, you want to ensure every step you take doesn't harm the environment. Thankfully, there are eco-friendly party choices you can make this holiday to reduce your impact on the environment.
To host an eco-friendly holiday party, start thinking about getting non-plastic products, recyclable decor, and sustainable gifts.
Don't know where to go? Make your holiday party eco-friendly with these amazing tips.
Use reusable dishes and cutlery
Were you thinking of buying one-time-use dinnerware such as paper plates for your holiday party? Although paper plates are made from wood pulp, which is biodegradable, they're usually coated with plastic or wax to make them water-resistant. This coating makes them not recyclable. Not to mention that they would be covered in food and may contaminate other recyclables if you dispose of everything in the same trash can.
Your best bet to stay eco-conscious and save money is to use your everyday dinnerware. You can also borrow more from a friend or neighbor if yours aren't enough to go round. That way, you only need to wash and reuse it after the party. You save money while saving the planet.
But if you don't have the time to wash so many dishes, read the next tip.
Go for compostable dinnerware
An excellent way to host an eco-friendly holiday party is to use biodegradable dishes, cutlery, and cups. Thanks to environmentally-conscious manufacturers, we can now find dishes made of palm leaf, cutlery made of bamboo , and cups made of corn . These materials are 100% decomposable, leaving zero waste behind.
The best part? You get to avoid the hassle of washing dishes after the party, and you can form compost out of the materials for use in your garden. It's a perfect win-win.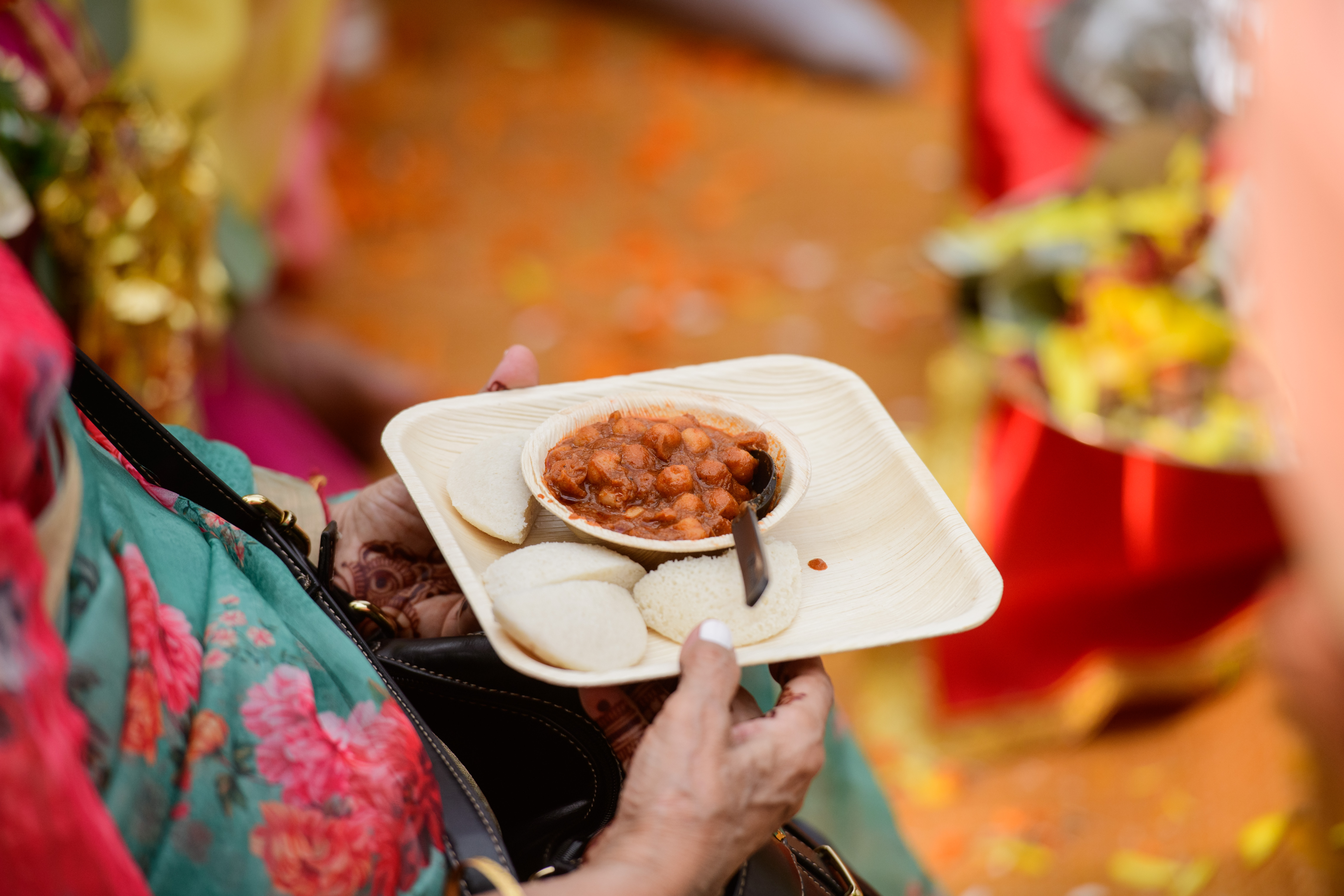 Palm Leaf Plate and Bowl being used at our own sustainable wedding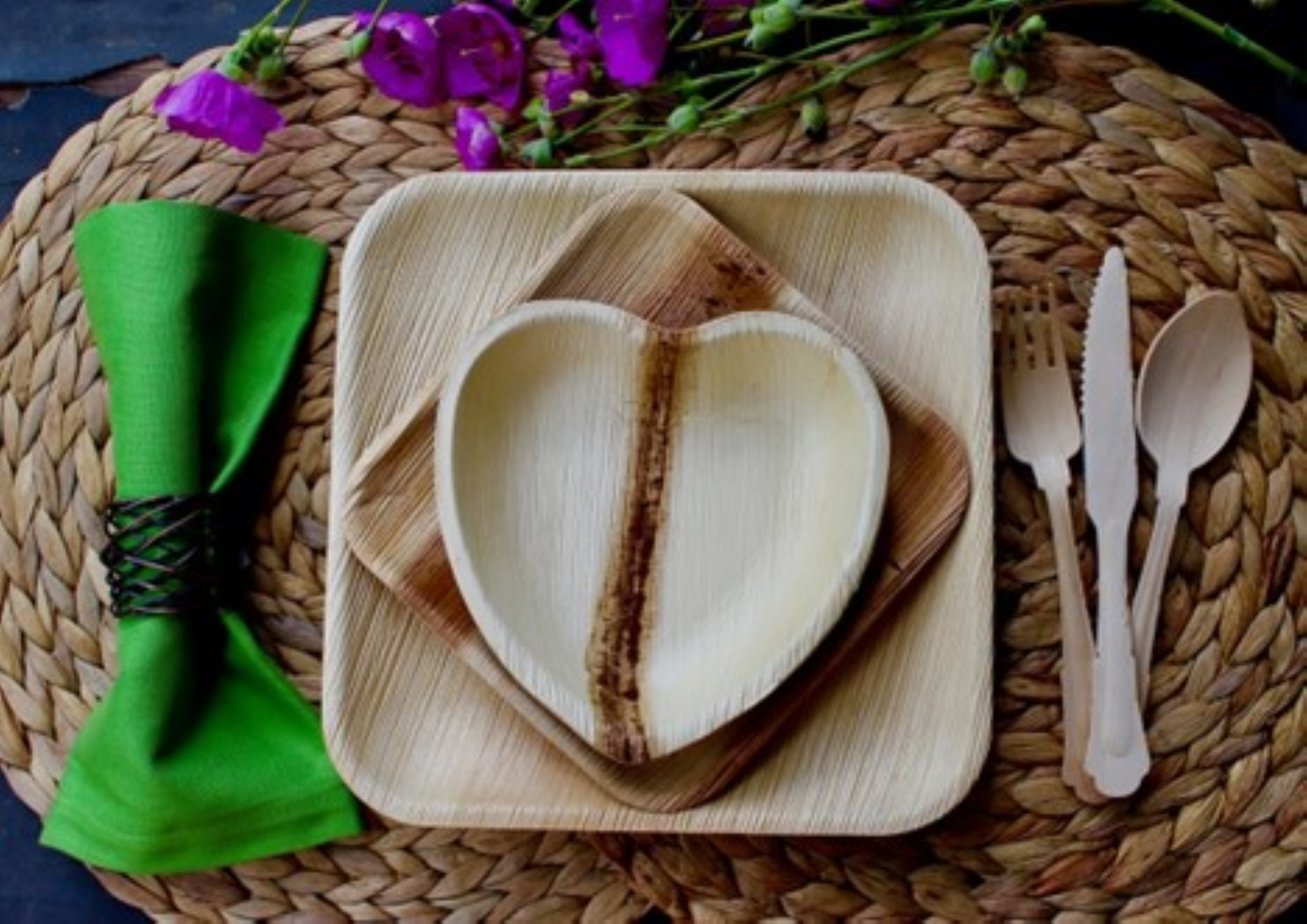 Photo: Eco Elegant Tableware – Check out their eco tableware on Etsy
Use reusable table linens
Table linens are important when hosting holiday parties, but they usually end up in the trash since they are a pain to clean. If the material isn't biodegradable (such as paper towels), you know what that means for the environment.
One way to stay eco-conscious while hosting a holiday party is to use reusable table linens and block-printed napkins . These fabrics are hand-printed on organic cotton and dyed in natural dyes. Everything about the design is sustainable. They are also great for gifting.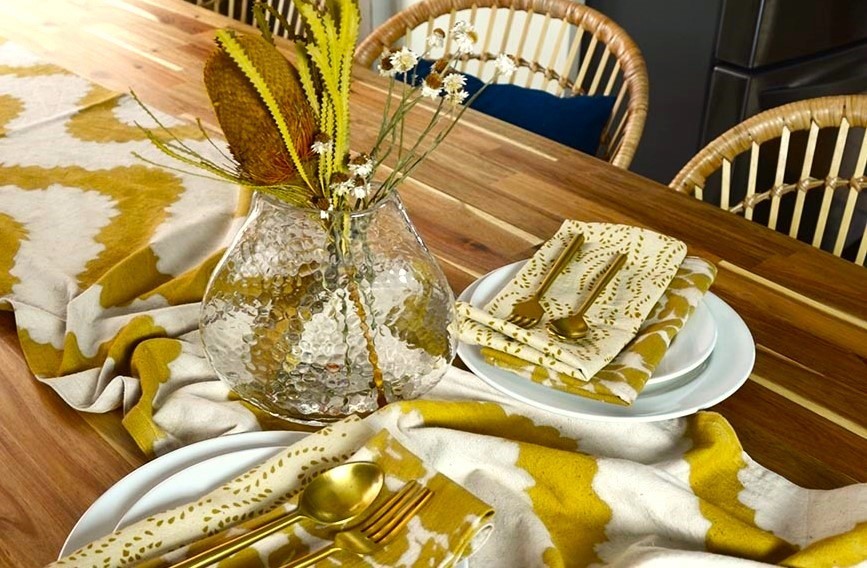 The best part about these block-printed napkins is you can reuse them because who wants to throw away such treasures? And when you finally decide to let go, they would completely biodegrade.
Video: Block Print Table Linens from ichcha
Decorate with natural, eco-friendly objects
From a recycled cardboard Christmas tree to one made of actual tree branches, there are many options to decorate your holiday party eco-style! You'd be amazed at how creatively beautiful and awe-inspiring your Christmas tree can get.
Another sustainable alternative is to rent your Christmas tree or buy a second-hand one from a thrift store. You can also revamp your old ornaments using spray rather than disposing of them and buying new ones.
Additionally, consider ditching faux plants for actual greenery. Wildflowers from outside can create beautiful home decor and tablescapes. When they die, simply compost them.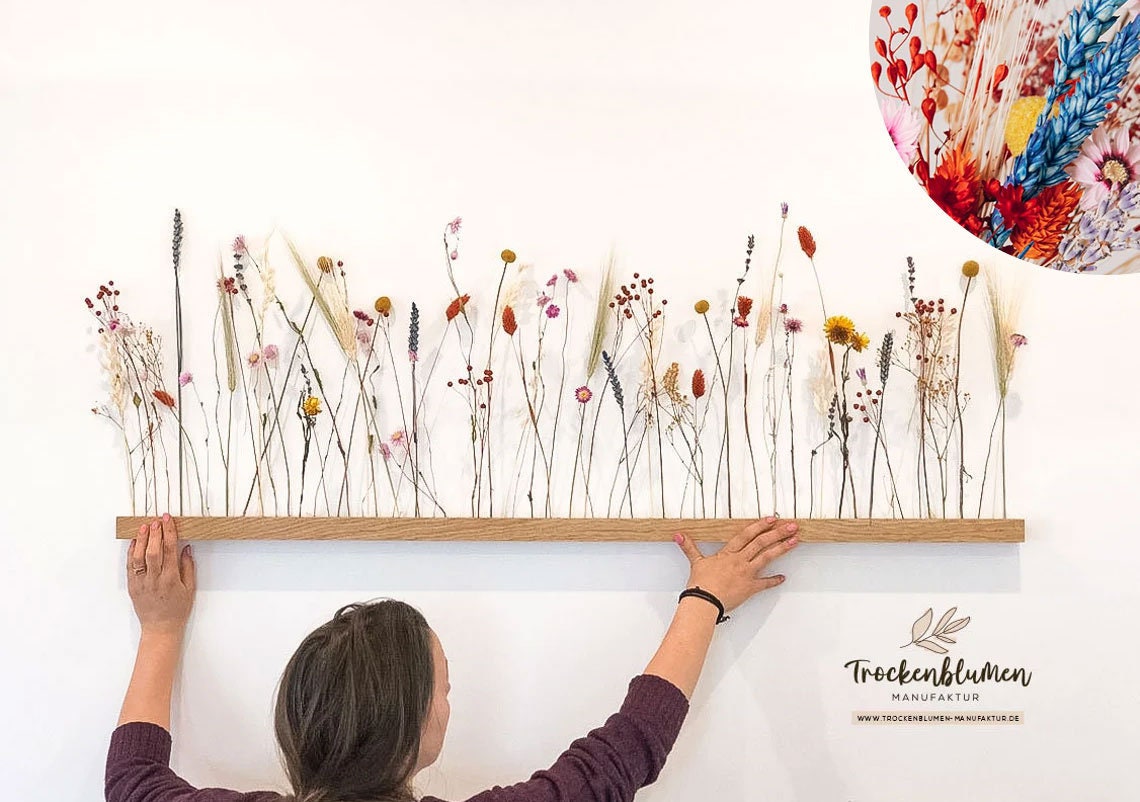 Photo: Trockenblumen on Etsy
Always think of ways to reduce waste and reuse materials, and you've got yourself an eco-friendly holiday party.
Make locally grown food
The holidays are an excellent time to support local farmers and invest in your community. It's a perfect way to give back. And in doing so, you're making your holiday party more eco-friendly because local-grown food involves minimal supply chain and energy use. That means smaller gas emissions -- and cheers to a smaller carbon footprint.
So instead of looking towards processed foods for your holiday party, source your ingredients from your local market.
Moreover, your guests will get to eat fresh, healthy foods.
Use sustainable gifts and wraps
If you're preparing gifts and prizes (perhaps you intend to host holiday-themed games), consider using creative gift options that are cruelty-free and leave no waste behind. These may include plants, gift certificates, hand-made crafts, and gifts of experience . Airbnb has a load of activities that can be given as gifts to your loved ones – making it a gift to remember!
Chances are your guests would be coming with gifts as well. So you want to encourage them to bring only waste-free gifts: strictly no plastic and no excessive packaging. Let them know that gifts do not always have to be material; they can be as simple as a donation to a good cause or a ticket to the recipient's favorite show.
When packaging gifts, glass is a more sustainable choice than tin. You may use aluminum foil, which is recyclable as long as it doesn't come in contact with food . Upcycle newspapers to create a beautiful wrapping. You can use these upcycled newspaper gift bags too! Use fabrics, bandanas, or these block printed napkins to cover your gifts, so that they can be re-used; wrapping paper would just be thrown away and is such a waste of a tree. Think of packaging as something re-usable, not something with just one life.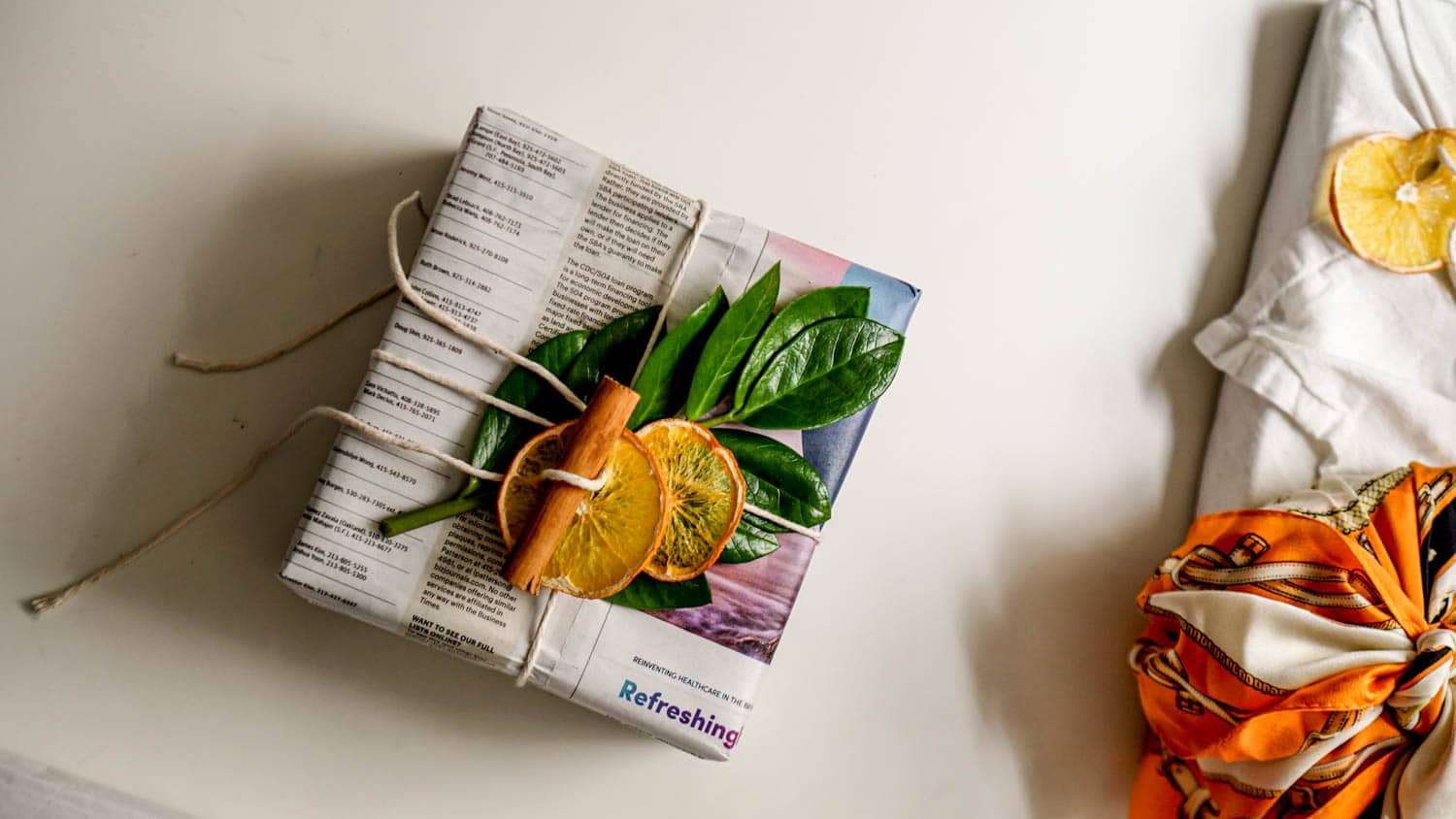 Photo: www.goingzerowaste.com
Use eco-friendly candles
Scented candles are a great way to create a warm, calming and a cozy environment for your holiday gathering. However, it's important to know that most cheap candles you find in regular stores are made of paraffin wax, a crude oil derivative, precisely the last thing you want to use if you intend to reduce your carbon footprint. In addition, most paraffin-based candles also get their scent from harmful chemicals.
To stay eco-conscious while lighting up your holiday dinner, use eco-friendly candles made from soy or ethical beeswax and scented with natural oils. You'll know from the label. If you find the word "fragrance" listed among the ingredients, that's a red flag. An eco-conscious candle maker would rather indicate that the candle was scented using natural oils.
Make recycling easy for everyone
Make your holiday party eco-friendly by making recycling easy for your guests. By labeling each bin clearly, let them know where to throw in the recyclable products and where the compostable ones should go.
For example, a guest might mistake the corn cup for plastic because it looks like one. Therefore, they'll likely toss the cup into the recycling bin. Unfortunately, that defeats the purpose because the corn cup will biodegrade in the bin and possibly contaminate the other recyclables.
I find that this labeling is a mindful and simple way of sharing your recycling knowledge with your guests as well. So, before the party, consider having your bins labeled:
RECYCLABLES - Bottles + Cans ONLY
COMPOSTABLE - palm leaf plates, corn cups, food leftovers, bamboo cutlery, paper napkins.
TRASH – Everything else
Hopefully the Trash would be the least filled bin! That's the goal.
Breathe
Finally, don't forget to have fun. Remember that a holiday gathering is a means of celebrating life together. So, in your bid to stay eco-conscious, do not get carried away to the point that the party becomes too strict and bland. If you find yourself at any point of the party, being overwhelmed with things – just take a moment and focus on your breath. Focus on your breath in and breath out and while doing that remind yourself that we are here celebrating together as family and friends. Parties don't need to be perfect, because we are with the people we love – and that is more important! Remember - progress before perfection.