Posted by ladycreation on 1st Aug 2011
It was a colorful world – whether we visited the block printers in Rajasthan or the embroidery workers in Gujrat! A craft tour with Neha Gandhi of Matsya to the western parts of India, gave us an insight on various art forms that are being followed by several families, in India, for several generations, because it is their family tradition! The mothers teach their daughters who teach their daughters and thus several of these art forms are alive today in the form of tradition and now a means of their living. After the earthquake in Gujrat in 2001, several NGOs came in and helped these families to grow from just artisans to – ARTISANS. I was excited to see that today several of these women ARTISANS have other women working for them, thanks to NGOs like 'Kala Raksha' and 'Khamir'. Laxmi Behan is one of them, who's work you can see below:



















These are women doing embroidery in her backyard:






To see the different kinds of arts and crafts, we went to various villages that bordered with Pakistan. The people of these villages had migrated from Pakistan and have stayed here since then. Their houses made of mud and cow dung stand in round shapes with hay roof and are a sight to see. These houses are made to keep cool during the hot summers and warm during the winter seasons. It was obvious that these people have made art part of their life style which was reflected in the way they decorated their houses from both inside and outside. While outside they painted the house with beautiful colorful motifs, on the inside the walls had mirror and mud work in white!





Inside their homes:





The women in these houses, still following tradition, made beautiful pieces of embroidery and beaded jewelry, which they sold to people like us who visited them. One of these women, who will stay with us, was 'Shama Behan' (see below). She welcomed us to her house with blessings.


She is a very warm and charming woman who looked around 50+, but when I asked her how old she was, she said she is 20. She was not being funny, but she, and other people like her, really do not know their age or their birth dates. She had 2 daughters who were married away and her son and daughter in law lived with her; so did her grand-daughter. After serving us tea, she showed us her work – so that if we liked it we can buy it. Some of her work that she showed us were as old as her marriage. She had brought it with her when she got married and came to this house. Of course, those were the ones that stood out the most. Below are some moments captured with her at her house:





Rogan Art:
Below is "Rogan Art" – done by the Khatri family. "Rogan Art" has been the tradition of this family for the past 8 generations. It is the only family in the world that practices this art now. This family does not sell through any physical or online shop. Instead, people from all over the world come to their house to experience and if they want, to purchase products.





Block Printing:
We met families that have been doing block printing for generations, again for following the traditions of the yesteryear's.
While the 'daabu' (daabu means mud resist) block printing is simpler, we observed that it is a lot of hard work which would get only worse in the summers! They hand block-print, dye, wash, re-dye, re-wash, and dry all in the outside. This family is the 4th generation doing hand block printing, welcomed us into their family while we learned the block printing process. Another kind of block printing that we saw is called "Ajrak". This is done by 'Sufian Bhai', who is the 8th generation doing this form of art. They showed us that the process is a 16 step process that takes about 14+ days to complete! See some of the process below: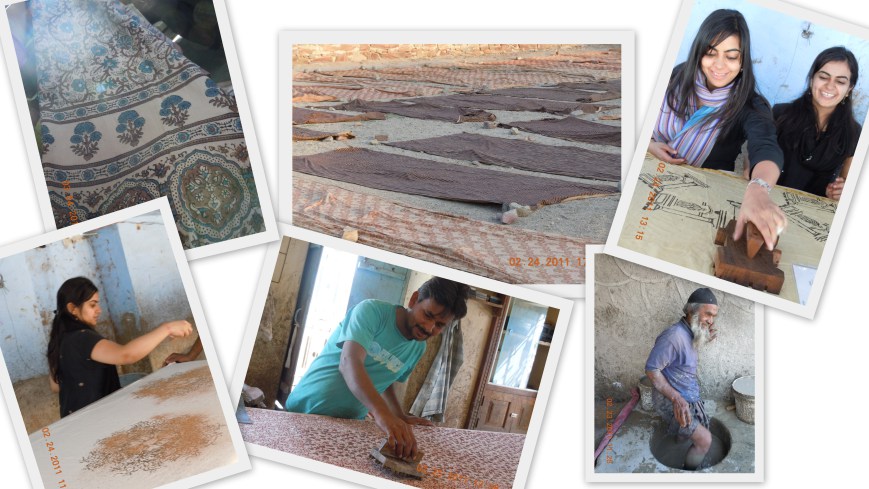 Every day we would start with this colorful world and end it in the White. We would watch the sun set at the White Rann of Kutch, the area that borders with Pakistan.